Yep, Valentine's Day is officially over, much to the relief of many (except the card stores…lol).
To be honest, it's not really that big of a deal for us, except we use it as an excuse to eat food that's very, very bad for us…lol! I was a "late bloomer" and never really had an interest in dating, so it amazes me that Jerry and I have been together for so long. Some days I'm seriously like, WTF?
I used to talk to my nephew every year, and he was always my favorite Valentine, my bestest buddy in the whole wide world. Now that he's almost a teenager, he'd rather play on his phone or his game systems than talk to his aunt. But, his (big) little brother is three, and he is a bit more willing to talk to "A-nay." So, the highlight of my day was when he got on the phone and told me, "Happy Valwentime's Day, A-nay!" I swear, my heart melted into goo!
Don't forget to click the red box below to subscribe to our new YouTube channel!  Thank you!

Well, this year, Valentine's came upon us pretty quickly. I didn't even realize it was here until the last minute. Uh-oh. We seriously hadn't made ANY plans. Usually, we go out of town, and make reservations in advance to a nice steakhouse, like Ruth's Chris, Del Frisco's, or Pappas Bros. If we stay in town, we go to Mariner's or Maglieaux's, or if we'd thought about in time, we would have gone to Mayeaux's Steak & Seafood (see our review here).
But, we went with Chili's! Not fancy, some would say it's not romantic, but it's probably our fave corporate chain restaurant. First off, they're very socially responsible, and regularly hold "Give Back" nights where they donate profits to local groups. I also appreciate how much they do for one of my personal fave charities, St. Jude Children's Research Hospital.
I should mention- I swear this is NOT a sponsored post…lol! It was supposed to be about the last-minute nature of our Valentine's Day, but it just so happens that we had just as great of a time there than we've had at "fancy-schmancy" restaurants.
Anyway, another thing we like about our local Chili's is the staff. When I worked for corporate America, I often worked long, late hours, and they were the only place open late that wasn't fast food. We got to know the employees, I even stole some of them to work for me, until I realized there was no one "good" left when we went there, so I had to stop…lol!   We were there SO much, that we added up how much we'd spent there, and it was $800-$1000 a month- and that was just at Chili's! (I seriously had NO life outside of work.)
I eventually lost that job (the parent company filed multiple bankruptcies, then went out of business), and when that happened, I was devastated. We went to Chili's, not having any groceries, and when they found out what had happened, they bought our dinner for us. Although only a handful of the "old" employees are still there, ever since then, the place has held special meaning for us.
Well, we rarely eat out anymore- we're trying to eat healthier, so we prepare our food at home now so we can control it. Even so, Coco was just as welcoming, like we'd still been going there several times a week. We also ran into Haley, a lovely young lady that we've known since she was a little girl.
Omg, we ate so, so, so, bad! But it was SO good! I had the smothered prime rib burrito, which was enough to feed a family of twelve, and Jerry had a cheeseburger and fries. Service was great (thanks again, Coco!), and we didn't have to wait to be seated- we went around 9pm. I've waited tables, and I didn't want to contribute to the horrific evening the servers were having by piling even more work onto them, so we went during a slower time. Well worth it!
Another thing I didn't put any thought into was a Valentine's look. I know, I know, I'm probably the only beauty blogger who did not do this! Shame on me! I didn't even put together an outfit ahead of time, which is good since the weather wasn't conducive to anything I would have selected. So, I went with some fairly standard, everyday choices.
For my makeup, I primed with Coola's mineral primer, then used NARS All Day Luminous Weightless Foundation in Barcelona, used NARS concealer for highlighting, Amazing Cosmetics Hydrate concealer around my nose (allergies, uggh…), then set with Laura Mercier oil-free loose powder. I used my Tarteist Contour Palette to set my highlight, NARS blush in Goulue, then used Juice Beauty Flash Luminizers
for bronzing and strobing (see my review here).
Click for a limited time, receive free shipping & sample with $25 purchase from Tarte!
For my eyes, I used Jeffree Star China White all over my lids, Makeup Geek Americano in my creases, and some reddish and pinkish shades from Makeup Geek, Anastasia, and Jeffree Star. I used Tarteist Clay Paint liner, Tarteist Lash Paint mascara, then topped it all off with Huda Jade #13 lashes. I finished with Benefit's Ka-Brow. I lined my lips with a nude Tarte liner, then Huda liquid lipstick in Trophy Wife.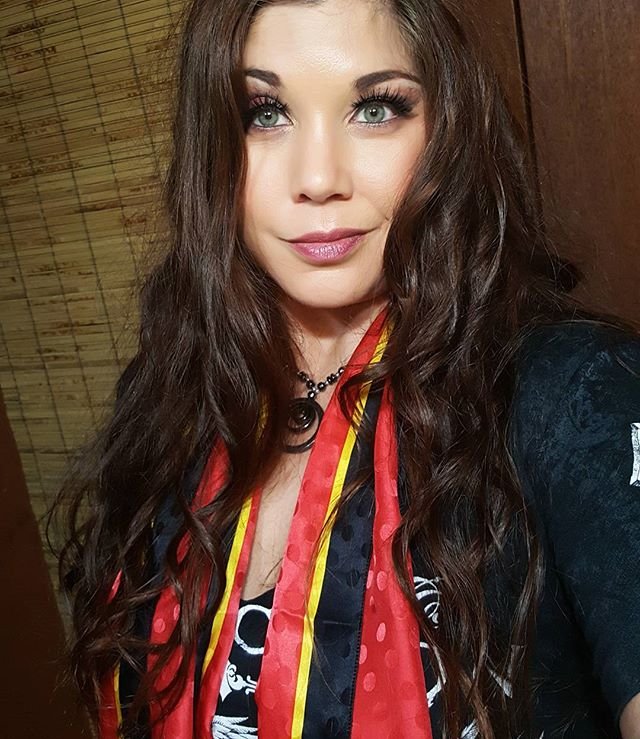 You'll have to excuse my flyaway hair in the pic above, it was wet and windy!  I couldn't find the black top I was going to wear, and had no idea what else I'd wear. I just threw on a pair of MEK jeans, black boots, a black Affliction tee, and added a red, black, and gold silk scarf from Carolina Herrera for a more put-together, "Valentine-sy" look.
The best part of my day was getting to talk to my nephew, spend time with Jerry, and visit with some people we haven't seen in a long time. So, despite the whole last-minute, unprepared nature of our Valentine's Day, it was pretty damn great. Sorry, not sorry! 😉
What did you do for Valentine's Day? Did you make plans in advance or wing it? Scroll down to comment below!