Hey everyone!!!!  How goes it?  Hope you're all having a swell weekend!
Every time I post certain photos, I'm constantly asked while out in public about my foundation, especially when the pics don't have an Instagram filter…lol!  With so many Mardi Gras pics being posted lately, I thought it would be the perfect time to talk about that foundation I'm always being asked about.
Here in Louisiana, Mardi Gras is a big "thing," and with Mardi Gras comes the parades and balls, and lots of those photos!  A friend commented on social media about the all formal pics, and the ladies with "raccoon eyes" from the camera flash.  I, myself, had noticed this as well.  It's always been something that couldn't really be helped, so it was widely accepted that this is just how it was.  Fortunately now, there's some great makeup available that can prevent this.  This is especially great for Jerry, because as a photographer, he's always had to do a lot of editing on these raccoon photos, now he doesn't have to.
Don't forget to click the red box below to subscribe to our new YouTube channel!  Thank you!

First off, to avoid this flash glare, avoid mineral-based sunscreens or primers- it's the minerals that cause a white cast and can result in the flash glare effect.  This also means you need to avoid any mineral-based foundations or concealers.  While products like bareMinerals are fantastic, they can cause weird things with the camera.  And, especially avoid liquid mineral foundations- you get the same effect as sunscreen.  (If you're out in the day time, use a chemical-based sunscreen, with ingredients such as octinoxate, oxybenzone, or avobenzone, if you want to avoid white cast or flash glare.)
If you're going to do a lot of contouring and highlighting, try to avoid using powder products for highlighting.  Instead, use a lighter shade of concealer in the areas you want to highlight.  You can also use a darker foundation or concealer for contouring, but since it's darker, it's not usually necessary to avoid a powder.
As for the makeup you should wear- you need HD formulas, or HD-friendly formulas that don't contain ingredients or particles that can lead to that raccoon effect.  Those compliments I get?  I'm usually wearing NARS All Day Luminous Weightless Foundation, NARS Radiant Creamy Concealer, and NARS Light Reflecting Pressed Setting Powder.   This combo makes for a flawless finish, no Instagram filter necessary!  (NARS also makes  Light Reflecting Loose Setting Powder, as well, if you prefer.)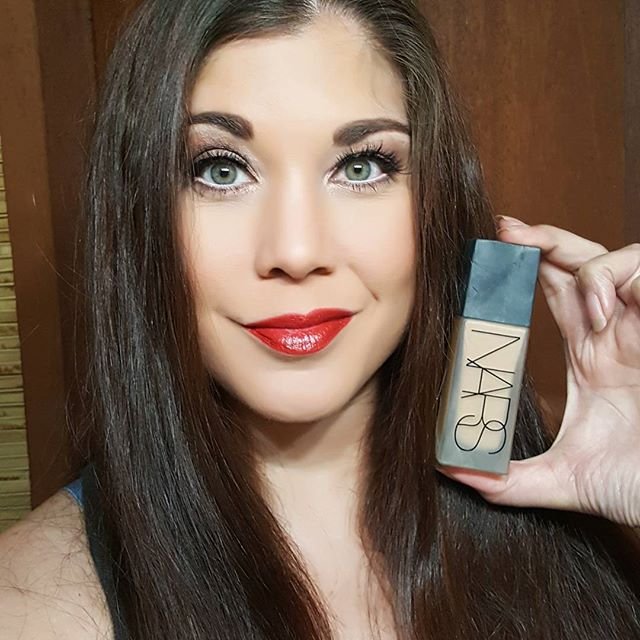 Make Up For Ever also makes some excellent HD formulas, and a lot of people really like them.  But, after trying several, I personally really prefer the NARS because even though it's medium to full coverage, the finish is so much more natural.
The NARS All Day Luminous Weightless Foundation is truly weightless, and it only takes 1-2 pumps to cover my entire face.  I've used a brush and a BeautyBlender to apply, but my hands work the best.  NARS actually recommends putting a pump or two into the palm of your hand, then warming it between your hands/fingers for a few seconds, then just press it into the skin on your face.  It's a bit pricey, but since it's so concentrated and you need very little, it lasts a LONG time.
After foundation, I use the NARS Radiant Creamy Concealer, but I use a lighter shade for highlighting.  This gives a very natural finish, without a powdery glare.  I top it off with the NARS Light Reflecting Pressed Setting Powder, which is AMAZING.  Again, Make Up For Ever makes an HD Microfinish Powder, which I've used quite often, but the NARS has a better finish.  While it says "Light Reflecting," it's kind of a misnomer because it doesn't reflect camera flash.  It has more a diffusing effect, so fine lines and imperfections seem to disappear.
All the photos in this post were taken with a flash, while wearing NARS All Day Luminous Weightless Foundation in Barcelona, NARS Radiant Creamy Concealer, NARS Light Reflecting Pressed Setting Powder, NARS Orgasm Blush, NARS Orgasm Illuminator, NARS Audacious Mascara, NARS Larger Than Life eyeliner, and Marc Jacobs
lipstick.  Eyeshadow is Too Faced Chocolate Bar, and brows are Studio Gear. (Except the oompa-loompa raccoon-eyed pic…lol!)
Click here, on the link below, or one of the banners, to check out these superb goodies from NARS!
Receive a Free Sample with any order plus, Free Shipping on $50+!