Hey, hey, hey, hey!  Hope you've all had a fan-tabulous hump day!!
It's been hectic here- lots of behind-the-scenes product research and testing- which is actually pretty fun, especially when you get another package in the mail from Pixi!  I'm always excited when something arrives from the brand, because the products are always such a joy- and the best part is that they're reasonably priced, so more of our readers will be able to try them out!
This box contained Pixi's Black Lacquer Lash Primer, Large Lash Mascara, Lash Line Ink, Eye Define Waterline, Eye Bright Liner, and four colors of the Endless Silky Eye Pen.  As usual, I couldn't wait to try these out!
The first thing I tried was the Eye Bright Liner, which is a nude shade that helps brighten the inner rim.  I couldn't really get a good pic of it, so I did a swatch on my hand to make it easier.  It does a great job of making my eyes look bigger, without looking as harsh as white.  It's also great to use as a layer before lining the rim with color, as it makes the color "pop" a bit more.
The Eye Define Waterline is similar to the Eye Bright Liner in that it's formulated to use on the inner rim, but, due to it's slimness, can also be used as a tightliner. The color has great pigment payoff, and glides on with ease, without smudging.  Both the Eye Bright Liner and Eye Define Waterline are super convenient to use because they're retractable, and don't require a sharpener.
I received the Endless Silky Eye Pen in Black Blue, Velvet Violet, Matte Mulberry, and Rose Glow.  Let's just say these glide on as easily as the Urban Decay liners, and are just as pigmented, but they're much more affordable.  They're also long-lasting, and I didn't notice any smudging- not even on my oily skin in the humid Louisiana heat!
The color I was most drawn to was the Rose Glow.  Terence Burns mentioned it on Instagram, and, as usual, he was SO right- it's absolutely amazing, unlike any other color I've used before.  I used it under my lower lashes- I find black a bit too harsh, and it always seems to smudge with my allergies, so this was perfect!
The Lash Line Ink is probably my fave because I've been doing winged liner a LOT lately.  Let's just say that this is very frustrating to learn, and when you keep practicing over and over (getting frustrating over and over…lol), and you finally start to get the hang of it- you want to do it all the time!
I was SO curious about the Black Lacquer Lash Primer, as I've never tried anything like it before.  I've tried those white colored primers that some brands have, but never anything like this.  The formula is purported to plump, protect, and prep lashes.
The brush is really unusual, and was designed to define and volumize.  It's kind of like a brush/comb hybrid that does a great job of getting each lash and helping to separate.  The primer actually looks pretty decent on its own, even without mascara.
The Large Lash Mascara got me pretty excited, too, because I couldn't wait to layer it over the primer.  The intensely volumizing and lengthening formula helps create large lashes in seconds.  Plus, it's smudge-proof and water-resistant, which is great considering I have such horrific allergies!
I tested out the primer and mascara using just one coat each so I could get an accurate idea of performance of both.  I must say, I was pleasantly surprised!  I did one coat of the primer, and one coat of the mascara- I didn't even use an eyelash comb like I normally do, and my lashes looked fuller, darker, and even had more separation than I would expect without a comb.  Very happy with the results!
Overall, I'm so glad I got to try these- I love that there are such fab products available that perform well, but are priced so reasonably.  I can see myself wearing the Rose Glow liner almost every day…lol!  Well, all of these products will easily have a place in my regular routine, as have my other Pixi goodies!
Ready to try them out?  Head over to PixiBeauty.com!
Save 15% on your PIXI Beauty order with code SPRING15! Check out all our New Arrivals & Collaborations.
Free shipping on orders over $25 from Pixi Beauty.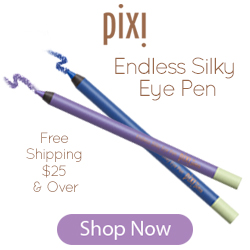 *Disclosure: This post contains affiliate links.