Hey everyone!  Hope you're all having a fab October!  Now's where I bit@h about autumn being here.  Summer is my fave season, and I prefer to be barefoot or in flip flops.  Despite being Unangax (Aleut, Alaskan Native), I hate the cold- I can tolerate it, but I don't like it!
When the end of summer blues start hitting, it can be quite a bummer.  So, it was an instant pick-me-up when a package arrived from Pixi Beauty!  The box contained the brand's new Eye Reflections shadow palette, Endless Silky Eye Pens in MatteNude and RoseGlow, Lash Lift 188 mascara, Makeup Fixing Mist, and a cute rose gold colored personalized mirror.  Obviously, my day was brightened!
First off, the new Eye Reflections shadow palette is the BOMB.  It's similar to the shades in the It's Eye Time palette, but some of the shades are a bit more vibrant, as these are more metallic- so it's PERFECT for fall and the upcoming holidays.  As per usual with Pixi shadows, they're all very silky and blendable, which also makes them user-friendly.
The Endless Silky Eye Pens are fantastic for brightening the eye area.  I used the MatteNude in my lower waterline, and the RoseGlow under my lower lashes, so my eyes really popped.  I think I'll also try using the RoseGlow on my upper lash line, doing a bold line, then smudging over my entire lid.
The MatteNude liner also seems to do a great job of making me look less tired when I use a bit in the inside corners of my eyes.  This is especially helpful when I'm having an allergy attack!  This is also a great way to make bold bright eyeshadows appear more true-to-color- simply use the MatteNude liner all over the entire lid, then apply the bright shadow.
The Lash Lift 188 Mascara is a really neat idea.  I've often found these dual products to be kind of "gimmicky," but not this one!  This mascara contains two wands, all in one- one is a small brush that's great for getting close to the lash line, along with coating fine, shorter lashes.  Then there's the large brush that's perfect for getting loads of volume.  So, both wands are incredibly useful, and no need to tote around two mascaras in your bag!
To finish off this look, I set everything with the Pixi Makeup Fixing Mist, so my makeup lasted all afternoon and evening, no touch-ups necessary.  I swear, everything was just as pigmented as when I put it on!
As always, Pixi products are very reasonably priced for the quality, so make sure to head over the PixiBeauty.com!
Free Shipping on Orders over $25 at Pixi Beauty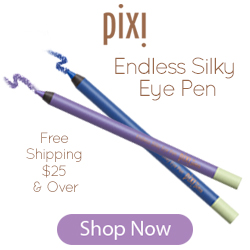 *Disclosure: This post contains affiliate links.